Melissa Santangelo's personal mission is to teach methods of holistic care that help humans all over the world learn how to connect with their own Groovy Goddess. Her life's undertaking has created a bodywork practice meant to enrich the lives of those souls she touches and media content aimed at connecting each viewer with their authentic Self.
Spa Santangelo's Mission is to offer affordable and relaxing holistic care (while having some fun). We are Santa Cruz County's premier provider of alternative health care and holistic recovery & wellness. Located in the heart of the Santa Cruz Mountains, we offer respite and nepenthe for stress and addiction related imbalances.
Spa Santangelo offers an epicurean spa experience, tailored yoga classes and scenic overnight stays at its Airbnb location in Scott's Valley.
---
Melissa Santangelo: Owner, Intuitive Spa Chef, Yoga instructor and Author

Melissa Santangelo, or the ~ The Groovy Goddess, is the founder of Spa Santangelo. Established in 2003, Spa Santangelo is a full service and affordable private day spa located in a serene spot among the redwoods of Felton, CA, complete with flowering gardens and mosaic art.
Certified in Yoga, Pilates, massage and energy work, Melissa is an expert in the field of tender loving care (TLC), detoxification, weight loss and stress management. She has led classes, workshops and written many articles on the subject of holistic self care.
Most recently, her quarterly column in Belly Dance Magazine (from 2007 until the magazine's end in 2011) called "Fitness for the Dancer" was met with rave reviews. From 2008 to May 2009 she was honored to produce and co-host a radio show on KSCO 1080AM called "Radiance and Chocolate." There, she interviewed many of her mentors, creating a wondrous exchange of ideas and powerful informational output for the community. Following, Melissa fulfilled her dream of filming her own workout DVD, Groovy Goddess Workout Yoga and Pilates.
Balancing & Healing
At a young age, Melissa knew she would write a book about her transformational journey and started journaling. In 2008 she published The Key To Life is Balance, a journal of her illuminating life experiences and juicy healthy living tips that she has come to learn through her life journey so far. The book shares her tangled path to enlightenment on finding balance after becoming homeless at 36 with a 5 year old daughter to raise. Today, Melissa continues to self produce self-help books, videos, and recordings. In 2011, she created "The Balance Tool Kit" which offers the client many ways to reduce stress in order to heal theirs minds, bodies and spirits. The Key To Life Is Balance Tool Kit includes: The Key To Life Is Balance book and work book & two CDs: "Mystic Meditations for Daily Life" and "Success and Abundance."
In 2013, Melissa created The Balance 7 Day Juice Cleanse meal plan with information about how herbs and food help the body integrate into a wellness marked by balance. This cleanse is inspired by a conversation Melissa had with Jack LaLanne himself and can be found in her second book, Spa-Cipes: The Spa Cookbook. This book includes all of Melissa's holistic recipes to bring her spa to your home. At the age of 9, Melissa would create spa treatments from food in the kitchen and herbs from the garden when she felt alone and sad. Her teens and early twenties were spent overweight, depressed and lacking in self esteem due to a broken familial structure and lacking communal support. Homelessness was her rock bottom. When she made the decision to go within she changed her life with big decisions. Intuition nurtured by a meditation practice helped inform those decisions. Now, her lifelong journey is to help others find balance easily and have fun while doing it.
Melissa is a 2003 graduate of Cypress Health Institute. Cypress' comprehensive education of massage training and polarity has dovetailed with Melissa's fitness background at Spa Santangelo to create a home base for integrative and practical health and wellness knowledge for her clients.
Yoga Hikes
COVID hit us all in 2020 and during that time Melissa innovated her Yoga class, bringing them outdoors. These "Yoga Hikes" connect the practitioner with the natural world as well as their own interiority. Please consider booking one of these hikes in the San Lorenzo Valley with Melissa today!
---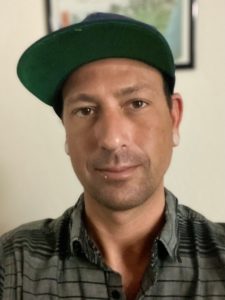 Danny Diamond, Massage and Shiatsu Practitioner
Danny has been offering the healing power of massage-therapy since his teens. He is a life-long healer and empath as the son of a nurse and fellow Piscean.
Years after his Shiatsu training, Danny began studying with professional Psychotherapist and Shaman Ann Drake in Gloucester, MA. Ann is a master Reiki-healer and Shaman. She and Danny shared and developed their abilities to cross dimensional boundaries of consciousness and glean information about the spiritual origin of a patient's physical malady. The healing-hands of the Shaman are able to restore balance to the energy-body and reconnect it to source-energy without the use of touch. In his mid-thirties, Danny has settled into a professional practice where he has created a synthesis of the Shiatsu and Reiki styles—a healing of mind, body, and spirit treated as a unified, dynamic system.
Shiatsu and the Energy Body
As a young man Danny was apprenticed to a Shiatsu master-practitioner on Cape Ann in the North Shore of Massachusetts. This intensive, personal training caused an energetic awakening. Danny awakened to sensing and seeing electrical fields and disharmonies in the energy body.
With this extra sensory perception he can restore his patients to balance by accessing the meridian structure of their bodies through pressure-points. Through these experiences his understanding of health and wellness gradually shifted from the Western model to the Eastern one, and he learned how to address the spiritual root-cause of illness in his patients rather than simply alleviating their superficial symptoms.
Shiatsu treatment was developed in Japan circa 1960; its benefits are beginning to be felt here in the States although there are few people circulating who know how to practice it.
Patients who visit Danny for Shiatsu treatment get off of the table feeling a fundamental energy shift in their consciousness and feelings of great peace, reassurance, well-being, and even euphoria awaken. This resultant shift in energy is due to his uncanny ability to release blockages in the energy-body and create a restored circulation of Ki to the totality of the patient's being.
---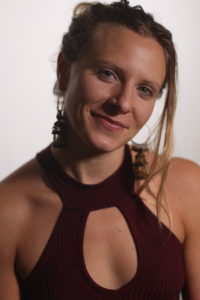 Shannon Cummings, Massage Therapist and Yoga instructor
Shannon is a 2020 graduate of Cypress Health Institute in Santa Cruz, CA. She lives in the Santa Cruz Mountains and specializes in massage structured by Polarity Therapy. She also works in the healing modalities of Deep Tissue and Swedish style massage.
Certified in Yoga, she specializes in the practices of
Ashtanga Vinyasa Yoga
. Individualized and group yoga sessions may be booked through her privately.
Always Learning
Shannon is in constant wonderment at the transformative power of the human spirit. She hopes to bring her own sense of style, joy and ease to her massage and yoga students.